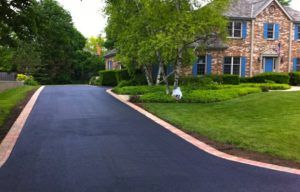 Congratulations you just finished your new asphalt driveway. It looks clean and black and wonderful. Now I bet you want it to stay that way. I know that I would. The best advice that anyone can give you to avoid those expensive repairs would be to keep up with maintenance. Don't keep putting it off and thinking you'll get to it later because those cracks are going to get bigger and multiply, and the oils will deteriorate. The best thing you can do for your asphalt and your wallet is to keep up with maintenance and here are two tips to protect and maintain your asphalt driveway.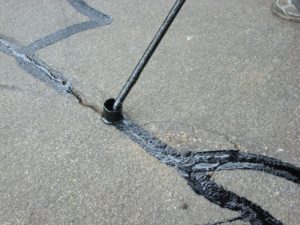 Crack Seal
When you see those little cracks start to peak through on your driveway, be sure and watch them make sure they don't get too big. The key to crack sealing is knowing the right size for when you need to fill them. Sometimes the cracks will be too small, and the material won't be able to get down within the cracks. Crack sealing small cracks won't do anything for your driveway. So, you can either wait until the crack is bigger or you can route the crack. Routing is when the asphalt company comes in with their routing machine and cuts through the crack to make it wider. The wider crack is then able to hold the rubbery crack seal material. Once the crack seal is in the crack, it seals your driveway from any water or debris that wants to get in. If that water gets through it will start to break apart the base beneath your asphalt. This makes it weak and more susceptible to cracks.
Seal your Driveway
It is always a good idea to get a seal coat put on your driveway within the first year or two of getting it done. This is recommended because the seal coat will help to rejuvenate the oils in your asphalt. It also works a type of "umbrella." I say that because it protects the asphalt from the sun and the oxidation process that will grey your driveway. Seal coat also helps to make your driveway look like new. If you just wanted a beautiful black look to your driveway, then I would recommend that you do a seal coat.
Another option for sealing your driveway is a Slurry Seal. Slurry Seal has larger aggregates in the mix which creates a thicker surface. It also lasts longer on your driveway and helps to create friction so that your driveway isn't as slick as it would be with a seal coat. However, it is not as cosmetically pleasing as a seal coat. It looks rougher and bumpier than a seal coat would look. So, depending on the look, you are going for and the type of material you want that will determine the type of sealing material that you will want to put on your driveway.
These are two of the best things that you can do to protect and maintain your new asphalt driveway. To make sure you avoid the expensive repairs this is your best option. For a quote or bid on the maintenance of your driveway, give Morgan Pavement a call at 801-544-5947.